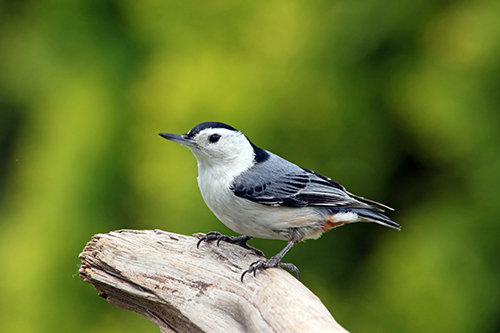 Photo credit: eekwi.org
March has been another month of beautiful weather. We have had many above average temperature days and lots of sunshine. All of our snow melted during the first week of March. We have had some snow since then, but not enough to accumulate. The average snowfall for March in our area is 5 to 7 inches.
The trees are starting to bud. Bleeding hearts and rhubarb are beginning to erupt. This is all wonderful, but very early. We don't usually plant our gardens until the end of May because we are likely to continue to get hard frosts until that time.
The birds are abundant in the crab apple tree near our deck. I saw a pair of Robins just a few days ago. The Chickadees are still flitting around as well as White-Breasted Nuthatches (pictured above). These birds are fascinating to watch as they creep head first down the tree branches. Apparently, this is the best way for them to smell insects.
In other news, I read 7 books. This was a little on the low side for me, but life was busy. We visited our youngest son, bought a rental property and I took my mom to have cataract surgery. Things are not going to slow down anytime soon as the months of April and May are full of good things. We will be preparing the rental property for tenants and our oldest son is getting married in May.
Here's the breakdown:
Cozy Mystery: 3
Historical Fiction: 1
Mystery: 1
Non-fiction: 2
Cozy Mystery:
Martini's & Mayhem (Murder, She Wrote #5) by Jessica Fletcher and Donald Bain. - Jessica travels to San Francisco to publicize her latest book. While there she gives a talk at a women's correctional facility where she meets a woman convicted of murdering her husband. The woman insists she didn't do it. Jessica becomes convinced as well and tries to prove her innocence.
The Cat Who Played Brahms (The Cat Who #5) by Lilian Jackson Braun - Qwilleran is spending a few months at the cabin of a family friend. Some strange things go on while he is there including a murder. With the help of his cats, he tries to discover what is going on.
Poetry in Motion (Secrets of Mary's Bookshop #8) by Kristin Eckhardt - Mary discovers a piece of notepaper with a poem written on it. It is signed, "Katherine Lee Bates". Is this the original written by the hand of the author of "America the Beautiful"? Mary will have to use her sleuthing abilities to find out the truth.
Historical Fiction:
The Hawk and the Dove (The Hawk and the Dove #1) by Penelope Wilcock - Stories of Benedictine Monks who are relatives of the narrator. The stories are told by a mother to her children.
Mystery:
Under a Dark Sky by Lori Rader-Day - Eden Wallace arrives at Dark Sky Park to keep a reservation her husband made before he died. When she arrives at the guest house, she discovers there are others staying there as well. This is not what she expected, but must stay at least one night because she has a long drive home. In the wee hours of the morning one of the guests is murdered. Now she can't go home because she is a suspect.
Non-fiction:
A Philosophy of Education by Charlotte M. Mason - Volume 6 of the Original Homeschooling Series. Charlotte Mason was a nineteenth century British educator who wrote a series of books on the philosophy she used and had found successful with her students. I used many of her methods when educating my own children and I find her methods are very applicable to anyone who desires to be an educated person. Her methods are based on using whole, living books rather than textbooks.
Diggin' Up Bones: One Woman's Spiritual Struggle and Her Golden
Retriever Who Leads Her Out of Unconscious Transgenerational Shame by Bonnie Wright - A memoir written by a woman who endured physical and emotion abuse while growing up. She found herself following the same patterns when she became an adult. It wasn't until she adopted a Golden Retriever with aggression problems, that she began to examine her own inner life.
Currently reading:
I am listening to Boo by Rene Gutteridge. It is so funny! Rene Gutteridge is the head writer for Skit Guys Studios, so I am not surprised by the humor in this novel. It is that same style of humor, only written on the page.
I am reading My Family and Other Animals by Gerald Durrell. Another funny book! But also full of interesting wildlife.
Around the blog:
That's all for this month. I hope you have all had a great March!